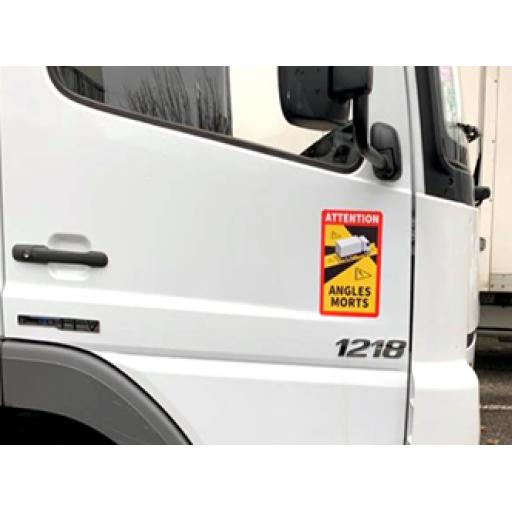 New legislation in France from 1 January 2021 requires all vehicles over 3.5T to display warning stickers to indicate the position of blind spots to other road users.
The new law includes vehicles from all countries – whether in or outside of the EU – with an authorised total weight of more than 3.5 tonnes.
As well as trucks, coaches, buses and vans, it includes private vehicles over 3.5T, such as motorhomes.
It applies to vehicles travelling "in an urban environment." This is not clearly defined, but presumed to be all built-up areas.
Non-compliance will result in a 4th class penalty fine (€135) that can be decreased or increased, associated with a loss of 1 to 6 points on the driving licence.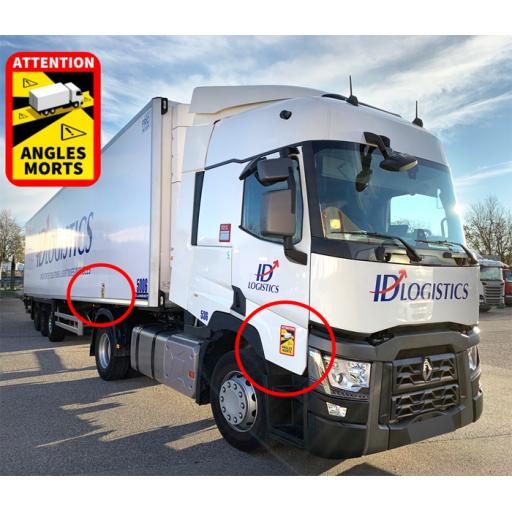 The stickers' exact location (on both sides and the rear) is mandated by the new law.
The law was drafted in 2019, notified to the EC in July 2020 and passed in November 2020.
After an intervention by France's trade body, the FNTR, a transition period has been agreed.
To allow operators time to comply a 12-month transition period has been agreed, during when it will be acceptable to have any visual indication of the presence of blind spots if the official stickers are not available.
The official signs must be 17 x 25cm and can be stickers, plates or vinyl as part of the livery.
Vehicles already fitted with side cameras are not exempt.
All vehicles and trailers must have signs that must be between 0.9m-1.5m above ground level fitted:
On the rear, on the right-hand side (French kerbside)
On each side (left and right) between 0m-1m of the front, excluding glass surfaces
On trailers, each side (left and right) between 0m-1m behind the kingpin (for semi-trailers) or the front body of other trailers.
Signs must "visible in all circumstances" and "cannot obstruct the vehicle's regulatory plates and inscriptions, various lights/signalling devices as well as the field of vision of the driver.
For vehicles and trailers where it is technically impossible to comply with the height requirement, signs must be "as close as possible" to 0.9m-1.5m and no more than 2.1m from ground level.
On vehicles with direct vision systems at the bottom of the doors, or glass doors, the side signs must be "as close as possible" to the 0m-1m rule, and no more than 3m from the front of the vehicle.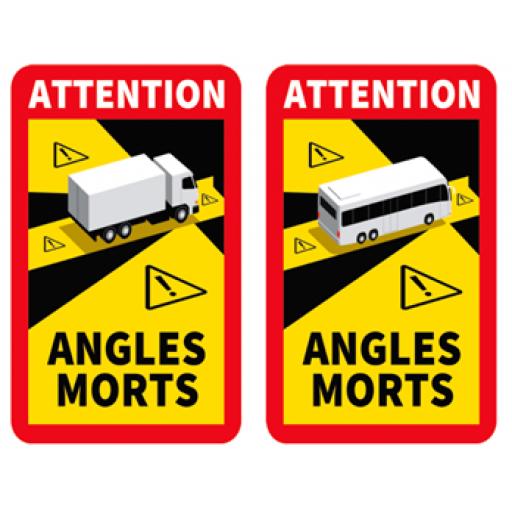 Official stickers must displayed: Versions for PSVs and HGVs have been published.
For vehicles where the rear sign location is not possible in line with the law, for example container doors and tractor cabs, they must be marked on the "rear face in a position compatible with their technical characteristics."
The law has been implemented to increase the protection of vulnerable road users, especially pedestrians and cyclists, to better understand the existence and position of blind spots on heavy vehicles.
Vulnerable road-users account for 70% of road deaths in urban areas and the accident rate in France is higher than the UK.
The legislation is only in French, but using the Chrome browser translates it.
Official stickers are available from online shops, including Amazon.fr, by searching for 'Attention angle mort sticker' or 'Angles morts sur les véhicules lourds'
The law and sticker artwork downloads are at:
https://www.securite-routiere.gouv.fr/reglementation-liee-la-route/reglementation-de-la-visibilite

The full text of legislation is at
https://www.securite-routiere.gouv.fr/sites/default/files/2020-11/19_11_2020_am_signilisation_angles_morts-1.pdf
Source ITTHub https://www.itthub.net/the-bigger-picture/health-safety/blind-spot-stickers-now-the-law-for-all-vehicles-over-3-5t-used-in-france/
January 16, 2021