More pressure to enact proposed changes to the EU regulations governing coach drivers' hours when engaged on tourism work has been exerted by trade bodies the International Road Transport Union (IRU), the European Tourism Association, and The European Travel Agents' and Tour Operators' Associations.
On 31 October, they jointly wrote to members of the European Parliament Committee on Transport and Tourism urging those elected representatives to support changes put forward by the European Commission (EC) earlier in 2023. Those include amendments to breaks from driving and to daily and weekly rest periods to give the sector greater flexibility.
In the latter case, alterations on the table include extension of the current 12-day rule to domestic tourism. Such a change has been repeatedly called for by UK operators.
No guarantee of coach tourism drivers' hours reform in UK, but…
If the EC proposals are adopted, there is no guarantee that they will wash through to the UK. But the Department for Transport in 2022 agreed to enact certain parts of the earlier Mobility Package, which focused largely on freight transport. Separate trade body work to lobby for direct reform here is also ongoing.
IRU and its partners note that the initial EC proposals from May "have since been improved by the [Committee's] lead rapporteur on driving and rest time rules for coach drivers." They urge members of the Committee to "mobilise behind" the proposals "and bring about an impactful change for the coach tourism sector, especially for drivers."
The joint letter states that in amended form, the proposals improve coach tourism drivers' working conditions and reduce stress, benefit safety, and positively impact driver and customer and driver satisfaction.
"Through a better travel experience, these critical measures will increase the appeal of European group tourism by coach," it continues.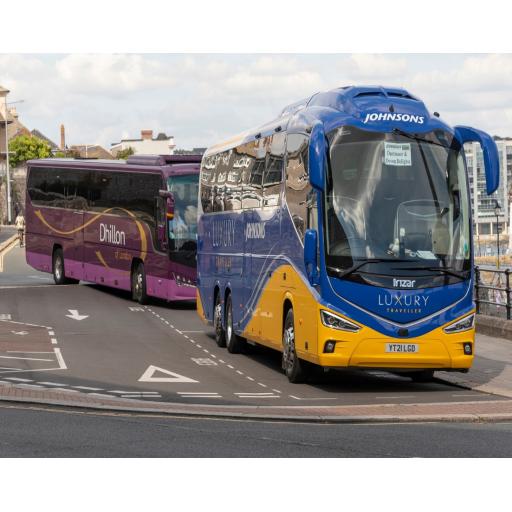 Status quo 'holds back Europe's tourism sector', says IRU
In work around the latest push, IRU has underlined its questioning of why coach tourism drivers are subject to the same rules as HGV drivers, despite often spending much less daily time behind the wheel.
That status quo "is holding back Europe's tourism sector, undermining the safest and most environmentally friendly form of collective passenger transport," adds IRU Director of EU Advocacy Raluca Marian.
Ms Marian says that no time should be wasted in progressing overhaul, and notes that the work involving the EC needs to be finalised in 2023 to allow for "institutional negotiations" to be completed and change to Regulation 561/2006 to go into effect during Q1 2024.
A vote by the European Parliament Committee on Transport and Tourism on the proposed changes will be held on 16 November. That will be followed by a further vote in the Parliament's plenary in December.
UK-centric lobbying on reform of coach drivers' hours ongoing
Separately to IRU's support for the EC proposals, UK trade bodies the Confederation of Passenger Transport (CPT) and RHA have each advocated for change to domestic coach drivers' hours regulations during 2023.
In its Manifesto for the Coach Industry published on 12 May, RHA outlined a desire to see reform that better reflects the working patterns of coach drivers, an exercise that it describes as "vital."
CPT's proposals were described as "not revolutionary, but evolutionary." They include a parallel request to extend the 12-day rule to domestic tours. In September, MacPhails Coaches Managing Director Martin MacPhail described such a dispensation as "a great opportunity," but he noted that if it comes to the UK, it must be by taking drivers along.
Source: RouteOne