Two new hybrid LNG-electric ships are coming to the Brittany Ferries fleet. They will arrive in 2024/2025 to serve routes connecting Portsmouth with St Malo and Caen. As well as significantly cutting emissions, the hybrids will deliver less noise, less vibration and a step towards future-proofing the company.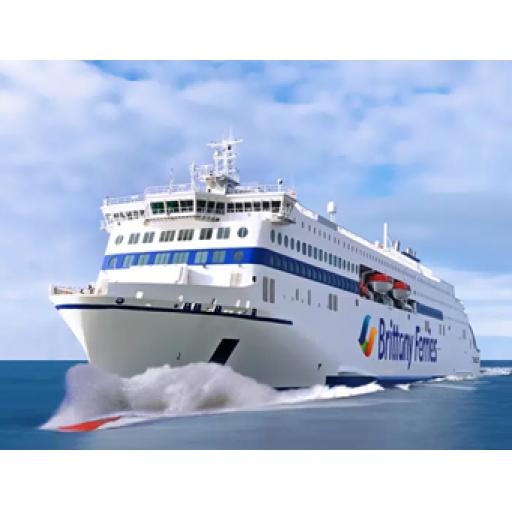 Key points:
Like a hybrid vehicle, the ships will run on gas, battery power or a combination of the two

Arriving in 2024/2025, they will replace Bretagne (Portsmouth/ St Malo) and Normandie (Portsmouth/Caen), the oldest ships in the fleet

Presenting greater freight space in garage decks and higher capacity for passengers in off-season

Ready for plug-in shore-side power: To eliminate emissions during port calls
Each ship has been carefully designed to suit the route on which it will operate, taking account of future trends in freight and passenger traffic. Garage space, for example, will be longer and higher which promises greater overall capacity for trucks and trailers.
The new ship on the Portsmouth-Caen route will host two garage decks to accommodate trucks. Its capacity will be 120 units, a 35 unit increase over Normandie, the ship it will replace.
On the Portsmouth-St Malo route, freight capacity will nearly double to 63 units. Furthermore, the ship will be configured to carry trucks all year round, including in the height of the summer season.
As well as better serving freight, the new ships promise a far lower environmental footprint. They will operate on the same principle as a hybrid vehicle. At sea, power will come from cleaner LNG (liquefied natural gas). But in a first on the English Channel, they will also operate partially or completely on battery power – for example when arriving and departing ports.
Fleet renewal – a pillar of Brittany Ferries recovery
The next ships to join the Brittany Ferries fleet will be the LNG-fuelled vessels Salamanca and Santoña. These will serve UK-Spain routes upon arrival in 2022 and 2023 respectively. Both will be fuelled by LNG and will also be chartered from Stena RoRo
How the hybrid system works
The hybrid ships have two propellors. Each propeller is connected via a prop shaft to a separate gearbox. The gearbox manages power supplied from one LNG engine and to one reversible electric motor. The electric motor is used to either:
drive the propeller

charge batteries and/or power onboard systems in port
When driving a propellor, the electric motor is fed by batteries. But it can also be boosted by power from the second LNG engine, configured via the gearbox for the second propellor.
When operating in reverse, the electric motor charges batteries. Depending on charge, the batteries can also be used to power systems on board such as air conditioning, heating and lighting, for example when in ports.
source:
https://itthub.net/port-shipping/new-hybrid-ships-will-boost-brittany-ferries-uk-france-freight-operations/?utm_source=email+marketing+Mailigen&utm_campaign=Digest+119%3A+28-7-21&utm_medium=email