Transport for London (TfL) increased up public transport service levels from this morning (Monday 18 May) and implemented pavement widening and additional cycle lanes.
The objective is to make journeys as safe as possible for people who have no alternative other than to use public transport as national restrictions on movement are carefully and gradually lifted.
The clear advice from the Government and the Mayor is that Londoners should continue to work from home if they can do so.
Key points
TfL is working hard to progressively return services to normal levels

TfL aims to operate 75 per cent of normal Tube services and 85 per cent of normal bus services while managing the impact of staff ill, shielding or self-isolating

Requirement to maintain 2 metres social distance between passengers wherever possible means capacity is hugely constrained and transport will operate very differently. People must self-isolate and not travel if they have any symptoms of the virus

Hundreds of hand sanitiser dispensers being introduced in stations along with new one-way systems, signage and announcements to help keep staff and passengers safe

Major customer communications campaign continues, urging everyone to avoid public transport wherever possible to free up space for people with no alternative means of travel and asking people to walk or cycle all or part of their journeys

Londoners asked to help control the spread of the virus by wearing face coverings and using new 'hotspot' data to avoid the busiest times and locations
People who cannot work from home are asked to walk or cycle using the existing and extensive new cycling lanes and widened pavements. Londoners should avoid public transport wherever possible.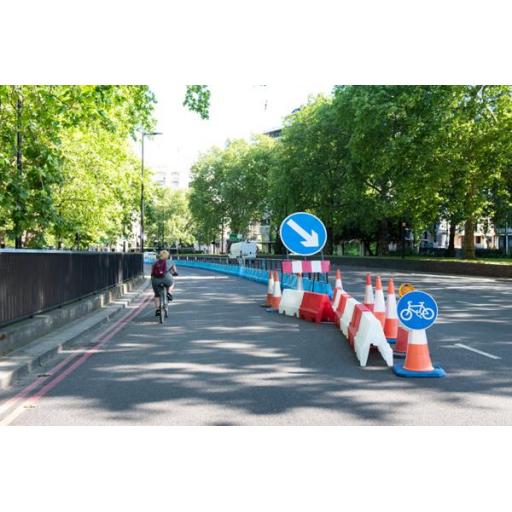 The closure of coach bays and Lane 1 on Park Lane has enabled extra-wide cycle lanes to be created
To prevent London's roads from instantly becoming unusably blocked with congestion, the Congestion Charge and Ultra Low Emission Zone (ULEZ) have been reintroduced from today.
These schemes reduce congestion and pollution and help tackle the climate and air quality emergencies.
The Low Emission Zone, which discourages the use of the dirtiest lorries and large vans, will also be reintroduced at the same time.
TfL has been engaging with businesses across the capital to make sure their employees are encouraged to work from home where possible and to walk and cycle if they do have to come to the workplace.
Businesses are also being asked to stagger start and finish times, so that employees can avoid the busiest times if possible.
The Congestion Charge reimbursement scheme has been temporarily extended to continue to support NHS, care home employees and London Ambulance Service staff, who are at the heart of the national effort to combat the virus.
NHS, care home employees and London Ambulance Service staff who work in the Congestion Charge zone will be reimbursed for journeys relating to coronavirus, including for their journeys to and from work.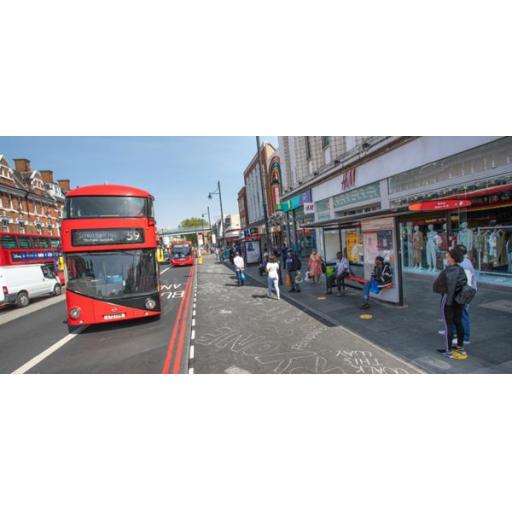 Pavements have been widened - such as in Brixton - where temporary bus stop poles have also been erected. The yellow labels' messages on the pavement encourage social distancing
People who have no choice but to use public transport should wear face coverings and avoid the busiest times and locations.
The busiest times on the network are between 05:45-08:15 and 16:00-17:30. Passengers are urged to take the most direct route and avoid busy interchanges. And avoid the following lines and routes:
Central line between South Woodford/Redbridge and Stratford

Jubilee line between Stratford and Westminster

District line between Dagenham Heathway and Aldgate East

Victoria line

London Overground between Stratford and Willesden Junction

DLR between Woolwich Arsenal and Canning Town
TfL has also published the 20 busiest stations to help people avoid known hotspots.
This will be updated regularly, and Londoners are encouraged to avoid using those stations wherever possible at busy times to help maintain social distancing and to avoid potentially having to wait to enter those stations.
More information:
https://www.itthub.net/wider-news/tfl-implements-social-distancing-measures-as-london-returns-to-work?utm_source=email+marketing+Mailigen&utm_campaign=Digest+56%3A+18-5-20&utm_medium=email